Death Still Too Kind
Posted on September 13th, 2008 by Mike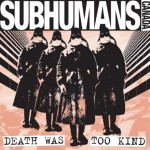 We are pleased to announce that, after only three years of people coming up to us at every gig and asking how come we didn't have any of our old music available, that we will soon have a batch of our old music available. "Death Was Too Kind" will be released September 30, in both CD and LP formats, on Alternative Tentacles (VIRUS 391) world wide.
Included are our first single from 1978, our self-titled EP from 1979, our second single from 1979, and two bonus tracks that were retrieved from a 1981 demo session to round out the history of the original band's first era and first lineups.
Here's the track list:
1. Death to the Sickoids
2. Oh Canaduh
3. Death Was Too Kind
4. Fuck You
5. Inquisition Day
6. Slave to My Dick
7. Firing Squad
8. No Productivity
9. Look At The Dawn
10. Pissed Off … With Good Reason
All the tracks were lovingly retrieved from the best sources we had, and painstakingly remastered for your listening pleasure. The last two tracks were previously released on our 1996 CD collection "Pissed Off … With Good Reason" (which has long been unavailable), but these versions were remixed from the original multi-track tapes, and might almost qualify as "previously unreleased" if you're generous. Which we assume you are.
We should also point out that unlike the various unauthorized bootleg releases that have surfaced over the years, the CD version is guaranteed not to contain any hidden viruses that might transmit your credit card numbers to a website in Belarus, and the vinyl version is guaranteed not to harbour any rogue transients that might cause your speaker cones to shoot out and embed themselves in the opposite wall. Just sayin'.